DOVO Scissors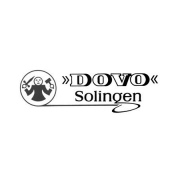 DOVO Scissors – made by DOVO Solingen, or DOVO Steelware, or DOVO. DOVO is an independent German company, based in Solingen. They are a manufacturer of precision, robust and stylish hairdressing scissors, shaving equipment such as straight razors and safety razors, as well as manicure tools. The shaving equipment and razors are produced by a subsidiary of DOVO, Merkur Solingen. Founded in 1906, the DOVO name derives from the last names of the original founders, Carl Dorp and Carl Arthur Voos.
At Direct Hairdressing Scissors we have been selling DOVO Shears to hairdressers and barbers for over 10 years and we have considerable experience on advising customers on the most suitable products to fit their requirements. To discuss any of the products in the DOVO Solingen range, please feel free to call us on 01270 630280. Our office hours are Monday to Thursday between 9am & 5pm or Friday between 9am & 3pm. Our help team will be happy to give you advice and assistance.
Save
No products were found matching your selection.