Cut-Throat Razor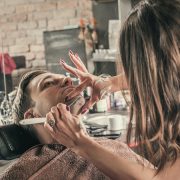 A Cut-Throat Razor frequently appears is a fine quality barber shop. Whilst these types of razor have dwindled in popularity in the mass market, they still have a strong following. They are still manufactured by companies such as DOVO, of Solingen, Germany amongst others.
These contemporary cut-throat razor users are known to choose them for quite a variety of reasons. Some, like 1950's style barber shops value them for their nostalgia, reflecting the old and traditional methods of shaving. Other environmentally aware barbers wish to avoid the waste of disposable blades! These is a strong case that states that straight razors give a superior shave due to a larger blade and greater control of that blade, including the exact blade angle used. A Cut-Throat Razor can cover far greater area per shaving stroke, as their edge is much longer than any modern multi-blade razor.
---
Direct Hairdressing Scissors have many years of experience and we would be happy to discuss your requirements with you. Our office opening hours are Monday to Friday, 9am to 5pm or Friday, 9am to 3pm. Please call our help team on 01270 630280.