EKS Scissors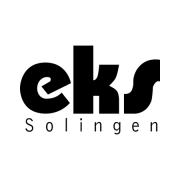 EKS Solingen scissors are made in Germany and offer a nice range of great value, high quality scissors that are built to last. EKS scissors are favoured for their highly polished sharp blades and their sleek yet comfortable designs.
EKS hairdressing scissors, come in various funky, classic, and traditional styles, and at their low price make a great starter scissor for new and training barbers, hairdressers, and stylists.
At Direct Hairdressing Scissors we have been selling EKS Scissors to hairdressers and barbers since 2005 and we have considerable experience on advising customers on the most suitable products to fit their requirements. To discuss any of the products in this scissor range, call us on 01270 630280. Our office hours are Monday to Thursday between 9am & 5pm or Friday between 9am & 3pm. Our help team will be happy to give you advice and assistance.
Save