Hairdresser Scissors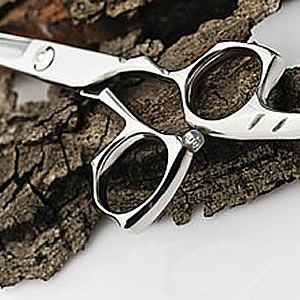 Hairdresser scissors are the most important tools of the trade. Also known as hair-cutting shears, these scissors that are specifically designed for cutting hair. Hair-cutting shears are distinguished by being significantly sharper than standard scissors. Shears typically range in size from about 5 to 7 inches long. They frequently feature a finger brace or 'tang', which gives the hairdresser extra control when cutting.
We supply hair scissors from the worlds leading brands including Dovo, Jaguar, Joewell, Tondeo, Kasho, Koi and Yasaka. We also offer great value hairdressing scissors for students right trough to the finest quality scissors avaliable, favoured by celebrity hairdrerssers. Additionally, we supply a great range of thinning scissors and left-handed hairdressing scissors.
---
You may also wish to get hold of a scissor pouch to keep your tools protected and readily to hand! We have many years of experience advising hairdressers on best possible scissor choices and would be happy to discuss your requirements with you. Our office hours are Monday to Friday between 9am to 5pm or Friday between 9am to 3pm. Call our helpful team on 01270 630280.