Tondeo Scissors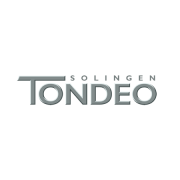 Tondeo scissors began with Adolf Noss in 1931 when he set up a razor blade factory in Solingen, Germany, which has long been famed for its manufacture of high quality blades. Since the Middle Ages, the stamp "me fecit Solingen" (made in Solingen) has appeared on sword blades produced in this famous German town.  In 1949, the factory Noss established was taken over by the Tondeo sales company. Production of Solingen hair scissors commenced in 1960, moving to the production of Tondeo scissors in the 70s. In 1980, the Tondeo company became a subsidiary of Wella.
Their focus of is on craftsmanship, technology and design. The Solingen tradition that Tondeo strives to maintain is the production of high quality hairdressing scissors and hair razors. Every pair of scissors produced going through around 150 manufacturing stages before the hairdressing scissors are complete.
To see our full range of high-quality scissors made in Solingen, visit our German Scissors category.
---
To discuss any of the products in Tondeo range, call us on 01270 630280. Our office hours are Monday to Friday between 9am to 5pm or Friday between 9am to 3pm. Our help team will be happy to give you advice and assistance.