Kasho Scissors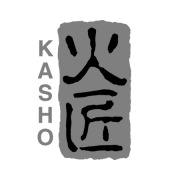 Kasho scissors incorporate two different stainless steel alloys. This means that scissors in the Kasho range can meet the very high Japanese quality demands for sharpness and material. By combining differing hardness grades, Kasho hairdressing scissors are perfectly balanced and the cutting edge is exceptionally durable. It is this property that leads to the unique "Ultimate Edge". Kasho scissor blades guarantee that they are both a pleasure to use and provide a very accurate cut.
Although Kasho produce more expensive hairdressing scissors than other manufacturers, you can be assured that their suberb build quality, precise balance, and long lasting sharpness are certainly worthy of their high-end price tag. Their worldwide reputation is definitely justified.
At Direct Hairdressing Scissors we have been selling Kasho Scissors to hairdressers and barbers since 2005 and we have considerable experience on advising customers on the most suitable products to fit their requirements. To discuss any of the products in the Kasho range, call us on 01270 630280. Our office hours are Monday to Thursday between 9am & 5pm or Friday between 9am & 3pm. Our help team will be happy to give you advice and assistance.
Save