Yasaka Scissors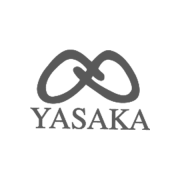 Yasaka Scissors produce wide range of high quality hairdressing scissors for salon professionals. The entire Yasaka range is made by hand by experienced Japanese craftsmen who produce scissors to the highest standards, producing some of the highest quality and sharpest scissors on the market today. All the scissors within the Yasaka range are sold packed in protective case.  Yasaka stainless steel has extremely high hardness properties and allows our clam finished blades to maintain their sharpness for long periods. Silky smoothness and incredible sharpness is guaranteed.
We have considerable experience on advising customers on the most suitable products to fit their requirements. To discuss any of the products in the Yasaka range, call us on 01270 630280. Our office hours are Monday to Thursday between 9am & 5pm or Friday between 9am & 3pm. Our help team will be happy to give you advice and assistance.
You may also be interested in our whole Japanese Scissors range.
Save