Glamtech Scissors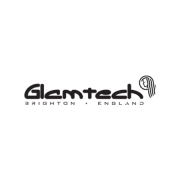 Glamtech scissors – explore our hairdressing scissor range from Glamtech, the UK based professional hairdressing scissor company which was established back in 2004 in Brighton, England by Andrew Wiseman. This scissor range is extremely popular and the company has seen its market share grow rapidly followin it's initial inception. Today, Glamtech's extensive range of hairdressing scissors and salon accessories are available in 13 countries. With over 40,000 new stylists starting out in their professional careers with the top selling 'One' range and also with many celebrities prepared for the screen using Glamtech premium scissors all levels of salon professionals are provided for. Glamtech are proud to stand for style, innovation, workmanship and service. They have rapidly established themselves as a high quality, credible brand.
For further information on the Glamtech range or for help and advice with any of the products we supply, please call us on 01270 630280.
No products were found matching your selection.