Henbor Scissors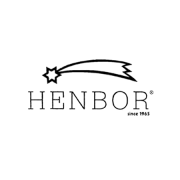 Henbor scissors, established in Italy in 1965, have specialised in the production of professional scissors for barbers. The Henbor range are exclusively hand made, with distinctive, unique models. All scissors in the Henbor range are produced using a process that involves more than 130 phases, each of which contribute towards the unique properties of these products. Their manufacturing process takes advantage of the labour of highly skilled workers, so they are able to guarantee a quality excellence in every phase of the scissors manufacturing process.
At Direct Hairdressing Scissors we have been selling Henbor Scissors to professional barbers since 2005 and we have considerable experience on advising customers on the most suitable products to fit their requirements. To discuss any of the products in the Henbor range, call us on 01270 630280. Our office hours are Monday to Thursday between 9am & 5pm or Friday between 9am & 3pm. Our help team will be happy to give you advice and assistance.
For more well-made scissors from Germany, view our German Scissors Category.
Save
No products were found matching your selection.